In the past 2-3 days we were showing our newest game on Indie Game Pitch and Indie Showcase on Digital Dragons 2014 in Krakow, Poland.
Game is called Cyber Sentinel and it's still in alpha/beta stage and was initially developed for itch.io's CyberPunk Jam. After gamejam we developed it further to add more levels and improve UI.
In CyberSentinel you take the role of a hacker, who writes programs to steal data from secure systems in a kind of '80s/'90s stylized version of cyberspace. You don't need to know any programming language, because programs are created using a variation of Alan Turing's state machine diagrams via a touch-based 3D interface. Its implementation is easy to use, yet complicated enough to teach programming basics.
Latest gameplay video. , screenshot pack , game homepage
Back to Digital Dragons: The atmosphere was great and people were fantastic. I would like to send greetings to all other teams that were  showcasing their games and congratulate them getting new contacts and achieving first big and small successes. Especially team TUTU lab for winning Big Indie Pitch and for great preparation for the whole event with their Foodo Kitchen game, you go girls :).
As of our game the reception was scattered all over the spectrum from great to not so good in all terms possible :). We got a lot of suggestions, some people said the game was too hard, some played and played without stop, some said the mechanics were great. As of graphics some liked the simplistic style while others' suggested we should change it to more appealing for casual players.
Getting all those suggestions, seeing how people play our game and that it somehow resonate with them was great. It was 2-3 days full of thrills, very demanding but in the same way very exhilarating and fueling :).
We really like to thank all gals and guys who tried our game and gave us suggestions. We will do our best to meet all demands and make final game really great. We already have tons of ideas to redesign etc. 🙂
And big thanks to all organizers, sponsors, press, the whole jury of Big Indie Pitch which also gave us a lot of helpful feedback, all people who voted for us or wanted to but didn't get a chance.
Photos from our Indie Showcase desk @ Digital Dragons: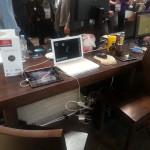 Aidenn + evolution of our expo place:
And here's Andy Touch – Product Evangelist at Unity Software playing our game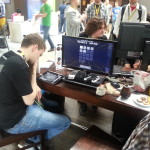 That was really good feedback seeing Andy (greetings:) and others play our game and I'm a bit disappointed of myself I didn't thought about getting photos of all the great people that enjoyed it :).
That's it for now. I hope to see all of you in the future 🙂
Special greetings: our expo colleagues from neighbour desks, Koshmaar, Tutu lab, Lara the dev and others 🙂